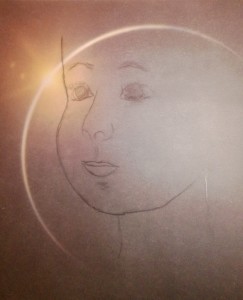 WAKE UP!!
Recently I was asked to speak before a group of people of varying backgrounds including engineers, scientists, those in the medical field and military, and so on, all interested in the recurring dream I wrote about in my book ,              Eyes Open, Looking for the Twelve – Blueprint for a New World
 Here in this blog writing, I am going to share with you an excerpt taken directly from my talk. And this particular Blog Post may be a bit longer than most, so bear with me.  I hope you find it interesting and that it helps to shed some light here and there.
The Hollow Bone 
In Native terms we speak of the "hollow bone." I am the "hollow bone." You are a "hollow bone." "Each one of us is a hollow bone through which Great Spirit blows the breath of life."
It sounds very poetic.
But it is actually quite practical.    What if there is "stuff" inside the hollow bone???
We were doing a workshop in Norway a few years ago and one of the Norwegians said, "A didgeridoo won't play if there's a banana stuck inside." Of course, we all laughed. Yet over all these years it has been a wonderful metaphor to use when describing what happens to the "hollow bone" when life experiences take place.
Think about it. Life happens. Always, each one of us is in relationship with ourselves, with others and with our environment. … And as Life happens, as an individual begins to gather life experiences, from the time of birth on into adulthood, unless raised in a unique and highly evolved environment (presently very rare on this planet), one by one dramas are created…
… from the time one learns to walk (and God knows this in itself is an amazing drama), into the time one learns to talk, to touch, to think, to feel, the experience of being in a family, in a school, a business, wherever one finds him or herself on life's journey, …
… ONCE an emotional drama happens, unless resolve occurs immediately, the  illusion of Separation becomes real for that person and is then perpetuated through each ongoing drama that develops. And before we know it … our hollow bone, our psyche, our emotional self in particular gets clogged up with unresolved angers…sadnesses… frustrations… emotional circles that were never completed and closed.
When this occurs for ONE individual then the energy of the experience itself bleeds out into the mass consciousness and as more and more individuals experience "separation" in this way, the COLLECTIVE'S PERCEPTION OF REALITY BEGINS TO CHANGE…
Beginning of Separation? 
Actually, this concept of "separation" I have a feeling goes all the way back to the beginning stages of homo sapiens.  Remember the movie, "The Gods Must Be Crazy," ?? …
… how everyone in this specific indigenous bushman tribe in Botswana who had NO knowledge of the modern-day world, lived in harmony with each other, experiencing no lack because they believed that the gods provided plenty for everyone all the time. Everyone had enough. … UNTIL …
…an empty coke bottle was thrown out of an airplane and landed on the ground without breaking. The tribe saw this as another gift from the gods and began to use it for all kinds of things, employing it as a craft's tool, making music blowing from the top of it, etc.
However, there was only one coke bottle to go around.  When everyone wanted it, all at the same time, the tribe's people began to find themselves experiencing envy…anger and eventual violence…which in the end led them to decide what?? That the coke bottle was "Evil." Then the movie goes on from there…
Whether this or something similar is what happened in the beginning history of humankind, some one incident to create the perception of "separation" in the human experience, I don't know…
What I do know is that the lack of skill or knowledge or ability to be "aware" of such things at the time to notice and resolve daily dramas that began to occur right from the start, created a perfect recipe for conceiving the IDEA of "Separation."
And over time, because of the collective's continued lack of dealing with and clearing of the "hollow bone," (whether it had to do with early stages of brain development, or immaturity of awareness level of the species, I don't know!)  Whatever the reason, the hollow bone of the human psyche was getting clogged.
… A world view came into being, one that said "separation" is real, a worldview that is richly in place today and unfortunately is constantly reinforced by the media!  Wahlah!  What was given birth to eons ago was the SEED FOR WAR.
<>
This concept of Separation is interesting to me because what I suspect is this:  that the Mass Consciousness (of which you and I are all a part) …set up a Reality in which Separation is something we ALL can experience…
… If this is so, then the very fact that the Collective Consciousness would do this means that we are all somehow connected…
So look behind the curtain of separateness. What you will find reveals that Separation is an ILLUSION…  It's just that somewhere along the line we forgot that we may have done this together and we have gotten off track …  Somewhere we forgot that we are indeed all connected.
How I like to say it is that "There is only one of us here."…
Each of us is a unique and individual reflection of the whole, of a larger consciousness.…. Each of us is different… distinct just as my foot is different from my hand…but not separate from my body.
Did someone drop a coca-cola bottle from a spaceship thousands of years ago?? Is that where it started??
I woke up several mornings ago hearing the voice of Don Alejandro, a Quiche Mayan Elder from Guatemala who when he spoke to a  large gathering many years ago in Santa Fe, New Mexico said… in fact yelled, "WAKE UP." "WAKE UP."
Like it or not, there are millions who have invested their emotional selves into believing "Separation" is real…
…  Proof of the pudding??  Humans daily create dramas in which our world is experiencing lack, disease…   threatened by differences or driven by controlling egos which ultimately lead to WAR and decimation of our environment and Earth's fragile ecosystems, and on and on ….
… masses of our Earth's population operating without conscience, that small inner voice within each of us that for so many for so long has been asleep…
Former Canadian Ambassador James George with whom John and I recently had the privilege of spending some rich time, said in his book The Little Green Book on Awakening:
" If Awakening means opening our eyes to a deeper and more inclusive understanding, we need to be brave enough to think the unthinkable and feel the unfathomable,even at the risk of turning the world that we think we know … upside down. "
Thich Nat Hanh says:
"We are here to awaken from the illusion of our separateness." …
… WAKING UP is no longer an option. It is more than a dire necessity… It is a MANDATE from the larger Universe!
<><><>