INTERSTELLAR COMMUNITIES
Communities of the Future
<><><>
The University and
Interstellar Communications Center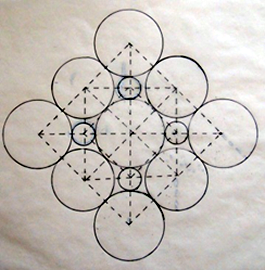 This incredible vision resulted from a recurring dream I had over a period of more than two decades, one that began in my teens and lasted into my 30s, and reappeared in the year 2009.   The best way I can describe the vision of what I've seen amounts to a "blueprint" for a facility that has a dual purpose:
The first is to create the space for the consciousness of the human species to evolve into a higher state of being, opening doors that will pave the way for our eventual overt interaction with Beings from other star systems;
The second purpose is to create what for now I'm calling an Interstellar Communication Center.
Curious??
…The crux of the vision lies in how we as humans treat each other and all life on our own planet, which is primary to our going any further. In other words, if we can't make the conscious choices necessary to move ourselves as an entire species into a higher state of existence, then the ongoing and healthy interaction with life beyond Earth becomes moot.
The readings that have been done on this "facility" say that it will begin on 3 to 5 continents and will move out from there around the globe. Educational systems as we presently know them will disappear as these facilities come into being.
For the time being, I'm calling the whole idea a University and Interstellar Communication Center, the U/ICC.
This U/ICC will focus on the whole human being and her/his total potential, the result of which will permeate the collective consciousness effecting all life on Earth. Certainly I won't see this manifest into full reality in my lifetime but I have my remaining years on this planet to give to move the dream out of the birthing canal.
I have been told that there are twelve persons that have had an almost identical dream of the one I've been given, each dreamer having a piece of the picture that I may not have. This I learned when readings were done on the dream itself. There are at least twelve of you out there somewhere, maybe more. Part of my job is to find you.
The book Eyes Open – Looking for the Twelve goes into detail the description of the dream. This book with this website and my blog are all to find these twelve and also to begin to enlist all others of you who are called to be part of this extraordinary vision. Are you one of the twelve?
Comments about Eyes Open – Looking for the Twelve, a Blueprint for a New World
"Eyes Open rings of a mission to find those out there who understand the dilemmas our world now faces and who are called to be part of the adventure     to resolving those dilemmas. This includes moving us forward into a future that     embraces a more evolved human species capable of healthy interaction with     itself and the rest of life on our planet, and in time, with life in the larger Universe." ~ Edgar Mitchell, Astronaut, Apollo 14 NASA Moon Mission, Founder of Institute of Noetic Sciences (IONS)

"Eyes Open offers readers a wide-ranging vision for the future of humanity ‹ a future with a radically different form of education and a central role for imagination, a future in which we respond to change with love, not fear, recognizing the vibrational basis of reality and the importance of 'gardening our hearts.' By 'slipping between the slices of light' to get clear of ego, in this new future we become part of a "spacefaring community" that previously lived only in the worlds of Star Trek and other sci-fi works. But Eyes Open is not science fiction. It is, rather, the rarest of the rare ‹ a book based on dreams, fleshed out in great detail, carried forward with vivid imagination and vision, offering the reader a call. Are you one of the 12? Reading this book, taking in its message could be the most momentous, life-changing event of your life!" ~ Susan Mehrtens, Ph.D., President, The Jungian Center for the Spiritual Sciences

"Eyes Open opens us to the possibility of a radically new way of learning and communicating: beyond the boundaries set by race, religion, political persuasion, nation state or even planet of origin.  The author, Jeanne White Eagle, extends an invitation for the reader to join her in manifesting a shared dream of creating the physical, environmental and systems structures needed to enable and nurture an enlightened international and interplanetary community." ~ Herman Maynard, business executive and co-author of The Fourth  Wave: Business in the 21st Century