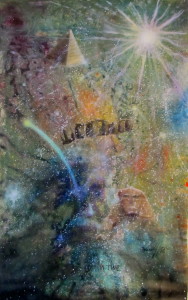 TIME TO BEGIN
To all you brave souls willing to read and engage in this blog –  This is the first of what I hope will be many ongoing Blog posts that I not only hope you find of use but that I also hope will inspire you to interact. You and your ideas are invited here, trusting that each of you who participates will do so from a place of integrity and care.
And so…
In the past weeks I have had the great privilege of interacting with some of the world's most extraordinary minds and hearts. Having recently been honored as a keynote speaker at an international conference in April where some 120 scientists and mystics were meeting, I was humbled to find there was enthusiastic support for the vision dream I have described in detail in my book Eyes Open, Looking for the Twelve – Blueprint for a New World.
If you have not read my book, in a nutshell the purpose of what I have described in my book is two-fold:  1) to raise the level of human mass consciousness to a full and perpetual wakeful state with awareness of the interconnectedness of all life; and 2) to cultivate healthy communication and interaction with other species not of planet Earth.
This requires the building of a particularly design multiplex-facility seen in a recurring dream that appeared again and again over a period of more than two decades. The reappearance of the dream close to 30 years later brought with it details that until then had been kept in the shadow. I realize now it all had to do with timing, and given the way the state of our world is in this moment, the time is fast approaching for this dream to be realized.
An interesting piece is that I know there are at least 12 of you, maybe more, out there who have had an almost identical dream and who have pieces I may not have. Thus, the reason for writing the book. To find you.
But it is also to find the rest of you who are part of this vision. You already know who you are, though you may not remember. I do know there are thousands of you out there who at some deep level within you is being called to make a difference… a difference that will impact the consciousness of all life here in such a way that the human species moves, even jumps, into a higher level of being.
I say "jump" because there has been evidence in the evolutionary steps of our human species that can only be explained by what some scientists call a "jump." I don't know about you, but I have a suspicion that our own DNA has clues to answering some of these questions. ( I'm happy to expound on this in another post. I also touch on this subject in my book.)  In any case, I have an intuitive sense that another such jump may be imminent.
Here is what I know. In order for the facility that I have seen, (and am at the moment calling the U/ICC ( "University and Interstellar Communication Center"), to be built, something has to happen on a mass level of the human consciousness to make it all possible. The most likely scenario I've come up with at this time is a sudden jump in the evolutionary process, in the consciousness of humankind. There are a lot of theories out there as to how this might happen. Maybe this is fodder for further conversation.
Love and Smiles, Jeanne
[Please know that you're invited to follow my Jeanne White Eagle Facebook page and to offer additional input there.]