Private Sessions
with Jeanne White Eagle
Sound Healing Sessions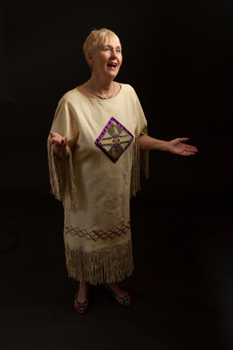 Many of Jeanne's private sessions work with the healing and transformative properties of sound. Since everything vibrates at an atomic or molecular level, everything has a characteristic frequency or sound. In a state of perfect health, all things sing or resonate together harmoniously. When someone is experiencing "disease," or emotional problems, something has become dis-harmonious or chaotic in the natural "song" of the body, emotions or mind,  Jeanne helps people hear what is out of balance, then objectify it by learning to "sing" it, and finally to use a powerful technique to restore the natural balance. Having had cancer twice in her life, Jeanne used Sound as the primary element for bringing a full healing into her own body. In essence, Jeanne gives people the tools for self-healing and insight. Many people have experienced dramatic breakthroughs and feelings of greater freedom during or after working with Jeanne.
Vocal Sessions
At another level, some people come to Jeanne simply for help with their voice. Jeanne is a classically trained singer who has sung in concert halls around the world. So, she uses her considerable knowledge and talent to assist others in learning to experience their own vocal power.
Jeanne's sessions generally last  60 – 75 minutes.    
Contact Jeanne for more information